The Smolny Convent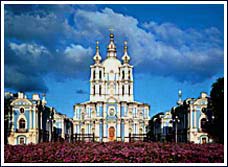 The Empress Elizabeth commissioned Rastrelli to construct a convent where she planned on spending her last days. Alas, Rastrelli, who was busy constructing both the Winter Palace and the Summer Palace in Tsarskoye Selo, did not finish it before the empress' death and the convent was never completed. Catherine the Great in her endless desire to inflict enlightenment upon her subjects, took what there was of the Smolny project and turned it into a finishing school for daughters of the gentry, the first educational establishment for women in Russia. The young women lived and studied in the long blue buildings flanking the cathedral. As the school expanded, the neighboring yellow Smolny Institute was built to hold the overflow.
During the Civil War the beautiful cathedral was used as a vegetable warehouse and later closed while the icons and other valuables were stripped out.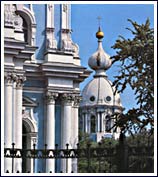 It reopened after World War II as the Museum of Leningrad - Today and Tomorrow, exhibiting "the great contribution made by the people of Leningrad to the fulfillment of the resolutions of the Party and government." This too has closed and now Smolny is the home of temporary exhibitions and occasional choral or chamber concerts.
The Smolny Institute was also filled with vegetables for a long time. The rubber-stamp Council of People's Deputies worked here until 1989, receiving all their orders from the modern building just across Proletarian Dictatorship Square where the Leningrad Communist Party was housed. The institute now houses the offices of Mayor Sobchak and his administration and is not open to the public (also see information on the Lenin Museum).