5th Corner ***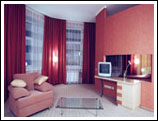 The Fifth Corner Business Hotel, a modern international three-star hotel is established in a late 19th century building. The Hotel is situated in the heart of Saint-Petersburg on the square of Five Corners close to the city`s main boulevard, Nevsky Prospect. We greeted our first guests in September 2004 and the hotel was opened for business on October 1st.
Situated on the famous square of Five Corners, our Business Hotel is central to every region of Saint-Petersburg. Saint-Petersburg is known as the most cosmopolitan city in Russia and prides itself in having the richest culture, outstanding architecture and picturesque scenery. In this increasingly prestigious destination The Fifth Corner Business Hotel has an important presence and is raising standards of hospitality to satisfy the most demanding guests.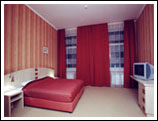 All of the major historical sites including the Hermitage museum and the Winter Palace, the Alexander Nevsky monastery and St.Isaacs Cathedral are nearby and easily accessible from the hotel, as are the major business districts. The distance to Pulkovo International Airport is 15 kilometers and a full transfer service is provided.
At the moment there are 30 rooms spread on the two levels:
9 Double Classic rooms, 19 Deluxe Twin rooms, 2 Suite rooms extra bed is available.
All rooms are equipped with satellite TV, telephone, internet access, safe deposit box, minibar and hair dryer, shower, toilet, powerful ventilation system. We provide our guests with laundry, dry-cleaning, ironing services, transportation, excursions, tickets booking, business-center.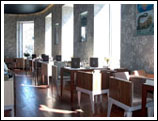 Facilities:
Restaurant "XREN" (Opened 11.00-01.00)
Laundry & drycleaning services
24-hour Reception desk & Information bureau
Room service
Business-center
Booking tickets
Visa support
Additional bed
Ticket booking
Internet Wi-Fi Internet
Ñonference-halls
Transfers from/to airports
Transfers from/to railway station
Excursions & Guides
Address:
Saint-Petersburg, Zagorodniy avenue, 13
Room Status
Period
Room Price (Euro)
Breakfast
Single
Double
Classic
Low season
89
112
Cont. incl.
Half season
110
133
Cont. incl.
High season
131
154
Cont. incl.
Deluxe
Low season
99
122
Cont. incl.
Half season
120
143
Cont. incl.
High season
141
165
Cont. incl.
Low season: 01.10.05 - 31.03.06, 01.10 - 31.12.06
Half season: 01.04 - 30.04.06, 01.08 - 30.09.06
High season: 01.05 - 31.07.06
Prices for Suites are available upon request
Make your reservation now!