Ukraine ****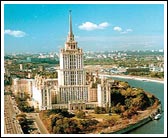 The building of the four-star hotel Ukraina is one of the most famous monuments of Soviet classicism, or the so called Stalinist architecture. This is a very popular hotel with old traditions of hospitality. It is situated on a picturesque bank of the Moscow River in the administrative, business and shopping center of the city.
There are 1017 rooms for 1617 persons in general (15 suites, 68 two room apartment, 515 doubles and 419 singles).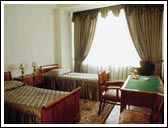 Video supervising system is installed to provide guests' security. Doors of all rooms have electronic locks.
In each room there is a bathroom, a minibar, a refrigerator, a safe-box, a telephone, a TV set with cable and satellite channels. Breakfast, cable TV and tax are included into the room price.
Facilities:
Restaurants and bars
Post and telegraph office
Business center
Rent-a-car
Meeting rooms
Sauna/barber saloon/laundry
Room service
Concierge desk
Multilingual staff
Currency exchange
Safty deposit boxes
On the 10th floor guests can get medical assistance for 24 hours that is free of charge.
Business and conference facilities
Address:
2/1, Kutuzovsky avenue, Moscow.
Make your reservation now!