Novotel SVO ****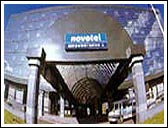 Novotel is genuine buiseness class hotel due to its location right near the Sheremetevo International Airport which is very convenient for those travelling on business. Hotel's bulding also houses a lot of places for relaxation after hard-working day. There is a wide range of options and activities including restaurants, bars, swimming pool, sauna and well-equipped fitness center.
Novotel also has an entire floor of non-smoking rooms, caring for those guests who do not smoke. It also features a free shuttle bus to the city center and nearby International Airport.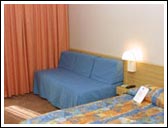 The Novotel Hotel has 488 spacious rooms and 5 rooms for handicapped guests. Rooms are 24 sq.m. Suite includes 24 sq.m. bedroom and 24 sq.m. Parlor, 2 bathrooms and 2 room entrance doors for maximum soundproofing.
All rooms have queen-sized beds, triple glaze windows with soundproofing, and are equipped with an individually controlled heat and air conditioning system, refrigerator, satellite telephone, voice mail, modem connection port, color television, radio, alarm for wakeup.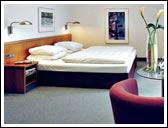 Facilities:
Restaurants & bars
Russian and American billiard
Fitness Center, Indoor Swimming Pool, Sauna, Massage
Gift Shop
Safe Deposit Boxes
Currency Exchange (24 hrs)
Taxi Service
Large Secure Fenced Parking Area
Flight Information on TV Monitors in Lobby
Medical facilities
Free 24 Hour Airport Transportation
Free City Shuttle Bus (8 am-12 pm)
24 Hour Room Service
Laundry and Dry Cleaning
Conference and meeting facilities
Business services
Address:
Sheremetyevo-2 Airport, Moscow.
Make your reservation now!