Volna ****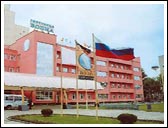 The four-star Volna Hotel (2 buildings - 4 and 9 floors, 200 rooms) is opened in 1996 after general renovation. The hotel is conveniently located on the main road to the historical city centre. Airport - 10 minutes. Moskovsky railway station - 15 minutes.
Hotel "Volna" offers a comfortable accommodation in 198 rooms and suites: 132 single rooms, 16 twin rooms, 40 suites "Standard", 8 suites "Business", 1 "Diplomatic" suite and 1 "Presidential" suite.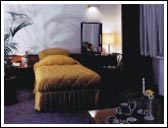 All rooms has: direct dial telephone, satellite TV with over 25 channels, pay TV, daily housekeeping service, bathroom, hairdryer, mini bar, high quality furniture (closets, a baggage table, an executive desk, a dressing table, an armchair, chairs, bedside tables, a standard lamp, a table lamp), electronic door lock with a magnetic key, door peephole.
Facilities:
Restaurants & bars
18-h room service
Big concert hall
Conference halls
Banquet hall
Cafeterias
Sauna
Business - centre
Barber's shop
Pharmacy
Taxies
Addresse:
98 Leninsky prospect, Nizhny Novgorod.
Make your reservation now!