Central **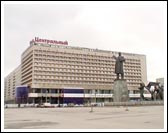 The Central hotel is the largest hotel in Nizhny Novgorod. More than 400 rooms are waiting for its guests at any time. The benevolent staff does its best to make your staying in our hotel as comfortable as it `s possible.
The hotel is situated on the one of the central squares of Nizhny Novgorod -the Lenin Square. The Nizhegorodskaya Jarmarka is less than 100 m from the hotel. You can see the beautiful sights out of the windows: Oka river falling into the Volga , the Alexander Nevsky`s Cathedral, the Blagoveshensky monastery. The Lenin square is a transport center, from which you can easily get to any part of Nizhny Novgorod. The railway station is not far from the hotel. You can also order a taxi or hire a car in the lobby.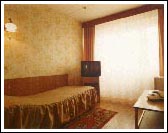 Facilities:
The currency exchange office
The chemist's shop
Coffee & soft drinks machine
Newspaper stall
Luggage room
Deposit saves
Cars hire
Paper copying machine, fax
Post box
Pub
Conference hall per 80 persons
Cafes
Dentist
Hair saloon
Beauty parlor
You can order an air ticket, which will be delivered to your room in 2 hours. The floor receptionist will order a taxi and give the necessary info about Nizhni Novgorod.
Address:
12 Sovetskaya str., N. Novgorod, Russia
Make your reservation now!