Kaskad ***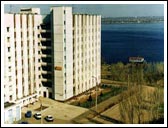 The Kaskad Hotel is conveniently located on the Volga river waterfront.
Commissioned in 1991, the hotel offers the guests of Volgograd 54 one-room and two-room apartments with all modern amenities.
Each apartment boasts a colour TV, a refrigerator and, of course, a breathtaking view of the Volga. Some of the apartments are also equipped with telephones.
In addition, the hotel features long-distance phones in the lobby, a dining room, a cafeteria, a massage parlour, a storage room, and a hairdresser's shop.
Water, sun, cozy apartments and affordable prices at the cafeteria all come together at our hotel to provide you with a unique opportunity to relax and have a good rest, to get a great suntan and, if necessary, to combine pleasure with business.

Address:
55 Gramshi st., Volgograd


Make your reservation now!